Whatever your industry sector – you deserve our "zero-defect" guarantee. We currently supply numerous customers throughout the world which is proof that we have successfully solved this challenge.
We have had to adapt to the high level required for the automotive sector. In the same way, we have equally adapted to the requirements of other industrial sectors.
Customer satisfaction is the result of our dedication to quality
Quality optimization and perfection provides both satisfaction and customer loyalty. Our qualified and trained staff is committed to the highest standards in quality control. We are dedicated to continual technical improvement through training and systems upgrades.
Quality, Safety and Environment approach
Our environmental policy and the scope of our EQMS are available to our interested parties. Please consult us if necessary.
DJC Quality Control Systems
Coordinate measuring machine
Complex machined parts with absolute precision.
This new ZEISS PRISMO machine allows:
Probing system for detecting discrete points on the surfaces of complex machined parts
Low measurement uncertainty of 0.9 + L / 350 μm
Setting the maximum measuring speed with high precision
Optimised measurement time for better efficiency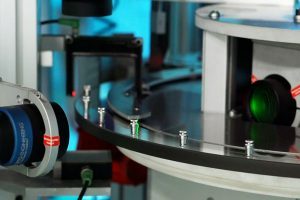 Automated Quality Control
Our strategy of integrating a 100% final control has enabled us to increase our quality performance.
Today we provide every solution for these controls that are available:
Dimensional control by camera
Aspect control by camera
Dimensional control by sensor
Our metrological control equipment includes:
Three-dimensional measuring machine CMM
Roughness measurement
Cylindrical roundness and form defect bench (round test)
Profile control by camera
Profilometer
Traditional metrology equipment
Statistical Process Controls (SCP)
The SPC control is automated and completely integrated into the manufacturing process.
Each machine is directly linked to the ERP which allows continual information feedback as well as the piloting of specific measurements.
We have operated under a rate of 10ppm (parts by millions) for over 10 years.
Advanced Product Quality Planning (APQP) METHOD
The APQP method has become an essential element for the management of our projects. This structured method enables us to encompass all the actions to be performed during the phases of development and project planning in order to guarantee our customers a perfect product. The purpose of this planning allows the project team to anticipate and avoid any errors rather than undergoing corrections during the phases of the series. All project and product data are thus planned, managed, and monitored on a daily basis.
MRP Software
This tool allows us to efficiently plan all the resources in the company.
It generates, among other things, operational planning of production based on the customers' requirements and enables the regulation of material supplies according to the production progress.
As a result, we can optimise our inventory level and internal resources with extreme precision.
Advanced Logistical Management
We have reached an overall service level of 99% for 30 million parts delivered per year. Customer satisfaction has become our main priority.
Thanks to the use of an ERP and an efficient traceability system, DJC identifies and certifies the entire supervision of products from manufacturing to the delivery.
Certifications
IATF 16949
DJC has been IATF 16949 certified according to the automotive industry since December 2018.
VDA 6.3
DJC has been successfully audited by several manufacturers and constructors according to the VDA 6.3 reference.
Sales Inquiries

For further sales inquiries, please contact our sales representatives weekdays from 8am to 5pm CET.
M.: +33 (0)6 09 24 35 28