DJC adds an INDEX MS40-6 multi-spindle lathe to its machine fleet
Published 10 June 2022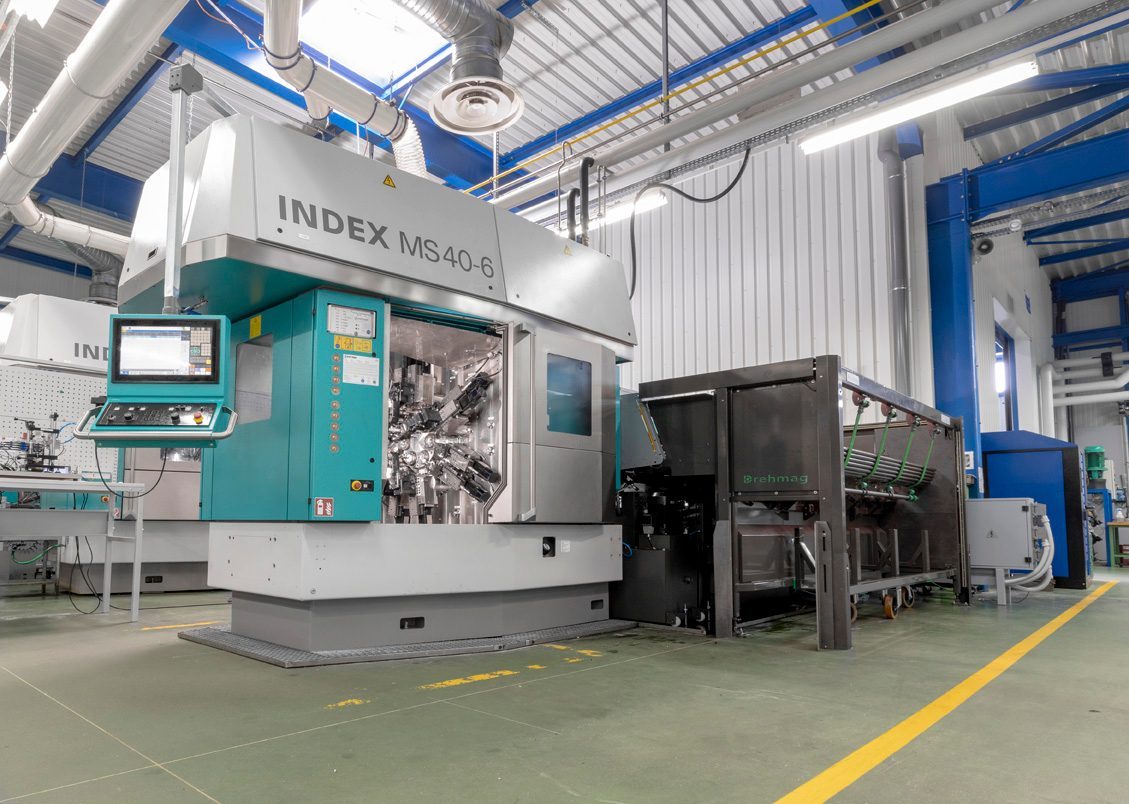 We are happy to announce we have expanded our high-precision machining capabilities with the addition of an INDEX MS40-6 multi-spindle lathe to our machine park. This is the last in a series of equipment reinforcement initiatives, following the installation of INDEX MS16, MS22, and MS32 machines. This series will enable DJC to further boost their operational efficiency, enhance our bar turning and machining capabilities and capacity for large orders undertaking.
The versatility of the INDEX MS40-6 gives it great capacities when it comes to machining complex precise parts providing endless design possibilities. Below are just some of the features of INDEX MS40-6:
Six main spindles and a synchronous takeover spindle allow for simultaneous manufacturing of 6 workpieces, significantly reducing production time.
12 tool carriers with 2 axes and an optional Y axis make cross machining possible as well as use of tool carriers for internal and external machining.
With 2 back-boring slides and possibility of rear-end machining with up to 6 tools per synchronous spindle additionally eliminates necessity for secondary processing.
Capable of machining bars of up to 40mm diameter with up to 57Nm torque, makes MS40-6 suitable for the production of differently sized components made of various materials including high-strength ones which are otherwise hard to machine on other multi-spindle lathes.
Because it is possible to set the optimum speed for each spindle position and each live tool and adjust it during operation, the result on the machined parts is a maximum surface quality, within short production times.
Controlled by a numerical control iXpanel i4.0 integrated with the latest control generation SIEMENS S840D software allows for quick technology setup cycles for efficient operations and optimum quality.
Due to these features of our newly installed INDEX MS40-6, along with other CNC multi-spindle automatic lathes in our machine park, at DJC we are able to push the limits of high-precision machining. Next to the basic ones, we carry out a variety of more complex machining processes, such as:
off-center drilling and thread cutting
inclined bores
cross drilling
contour milling
hobbing
polygon turning
use of stationary and live turrets with up to 3 tools
With the most recent addition to our machine park, DJC is now equipped with the latest generation of INDEX multi-spindle automatic lathes, which combine the highest degree of productivity and efficiency with remarkable versatility and accuracy. This qualifies us as the manufacturer of choice who can satisfy from small to high-volume orders of high-precision components for fields which require extreme accuracy and repeatability, like the medical, automotive, connectors or aerospace industry.
Share news article