Our 14 multi-spindle CNC turning machines make us the ideal partner for all medium and large series orders. We guarantee fast completion and an exceptionally high level of quality.
Using the latest multi-spindle CNC machines coupled with our expert CNC machining knowhow we can produce parts ranging from 5 to 51 mm in diameter, of complexity and precision second to none.
The CNC lathes we have enable us to produce precision machined parts using a combination of CNC turning, milling, drilling, and boring.
Multi-Spindle CNC Turning
With DJC's experience in CNC turning processes, you can create from the simplest to the most complex parts. Here are some of the turning methods we master:
Straight turning "roughing"
Polygonal turning
Tapering
Spherical generation
Grooving
Parting
Knurling
Threading
CNC Milling, Drilling and Boring
With a wide range of CNC milling, drilling, and boring technics, DJC can produce a range of complex connectors, valves, pistons, and other hollow parts. Here are some of the CNC drilling methods we master:
Straight boring
Tapering
Threading
Cross-drilling
Latest Multi-Spindle CNC Lathes
DJC has the most advanced Swiss-style CNC lathes available on the market. We are constantly reinvesting in the most productive digital lathes and making sure that our technicians have the training and experience to operate them at full capacity.
Index MS machines are a best-in-class dynamic multi-spindle lathe offering the shortest possible changeovers, ultra-high dynamics and lowest secondary times resulting in the minimal cost per part :
Index MS 16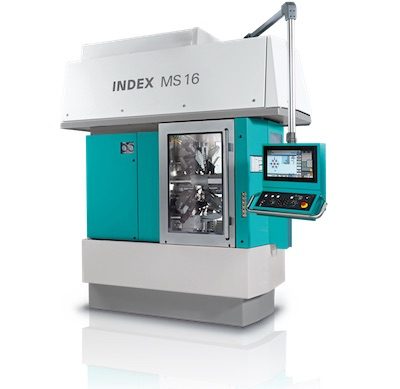 | Specifications | |
| --- | --- |
| Max. Bar Dia. | 16/22 mm |
| Min. Bar Dia | 5 mm |
| Max. Speed | 10,000 RPM |
| Max. Power | 15 Kw |
| Max Torque | 18 Nm |
Index MS 22
| Specifications | |
| --- | --- |
| Max. Bar Dia. | 22/24 mm |
| Min. Bar Dia | 5 mm |
| Max. Speed | 10,000 RPM |
| Max. Power | 15 Kw |
| Max Torque | 18 Nm |
Index MS 32
| Specifications | |
| --- | --- |
| Max. Bar Dia. | 32 mm |
| Min. Bar Dia | 5 mm |
| Max. Speed | 8,000 RPM |
| Max. Power | 19 Kw |
| Max Torque | 40 Nm |