CNC Machining Services
DJC provides a complete CNC machining service. From technical drawings, CNC bar turning, inspection and quality assurance to cleaning, surface and heat treatment. Our dedication to quality and customer service means we can deliver small to large series of parts ready for immediate use, straight to your manufacturing pipeline.
Our 14 multi-spindle CNC turning machines make us the ideal partner for all customers in need of fast delivery of high quality medium and large series of CNC machined parts.
DJC has over 40 single-spindle digital lathes with specific characteristics. Using CNC turning and various CNC milling techniques we can machine almost any component imaginable.
DJC is capable of CNC machining a wide range of metals and plastics from 5mm to 51mm in diameter: aluminum, brass, bronze, copper, stainless steel, steel, brass and copper alloys.
DJC has expertise and machines for high-volume, high-precision production of parts for a variety of industries.
Evaluation of production quality includes 3D control, camera profile, probe profile, cylindricity & shape defects, and surface condition measurement.
All CNC machined parts produced in our facility can be delivered cleaned and decontaminated.
DJC can perform any number of heat and surface treatments on CNC machined parts to improve the physical and mechanical characteristics of the materials used in production.
Can your part be made using CNC machining?
Send your technical drawings and specifications to us using the following form and we will tell you whether it can be machined.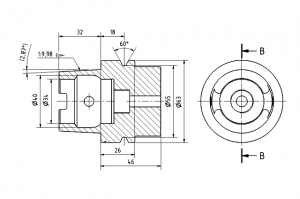 Sales Inquiries
For further sales inquiries, please contact our sales representative weekdays from 8am to 5pm CET.
M: +33 (0)6 09 24 35 28