Medical Equipment Manufacturer
For more than two decades, DJC has been involved in the mass production of mechanical parts used in various fields, including the medical industry. We deliver high precision machined parts turned on latest generation CNC machines. 
With our state-of-the-art equipment including the latest multi-spindle and single-spindle lathes, coupled with our in-process and post-process quality procedures, DJC is able to supply parts with complex geometries. Our teams are able to manufacture medical machined parts for surgical instruments and medical devices for OEMs worldwide. 
Custom surgical instrument manufacturer
During production, we strictly follow the requirements of our customers. Precise customization is crucial in applications such as orthopedic surgery. 
The application of the highest quality material treatments coupled with highly precise manufacturing processes, enable us to successfully deliver to our customers medium to large series of high precision medical parts used for various medical applications.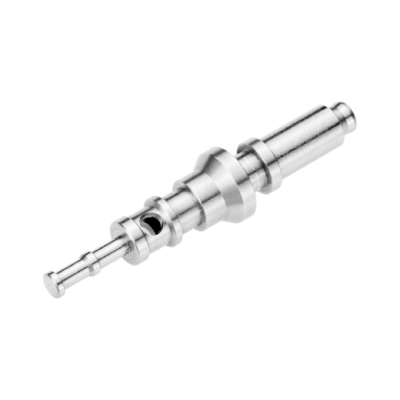 Varieties of biocompatible materials  
The materials we work with are cobalt chrome, aluminum, steel, stainless steel and plastics. 
What makes these materials ideal for medical applications is their biocompatibility and chemical inter-compatibility, which ensures wear resistance and long life, while allowing for complex geometries. 
Full service for the production of medical parts 
Together with our partners, we are able to prepare and process materials with the required mechanical and chemical properties. Our final products are delivered with the highest quality and dimensional accuracy, processed with the required heat and surface treatments, degreased and decontaminated before being washed and, for MedTech applications, sterilized by our customers.
DJC quality and environmental certifications
DJC is ISO 9001 and IATF certified. After obtaining these certifications, the company is currently working on the ISO14001 (environment) and ISO13485 (Medical) standards. The objective is to be certified according to these standards by the end of 2023. 
Sales Inquiries
For further sales inquiries, please contact our sales representatives weekdays from 8am to 5pm CET.
E: l.gerardin@djc.fr
M: +33 (0)6 09 24 35 28