Advantages of Multi-spindle Machines
Published 30 August 2022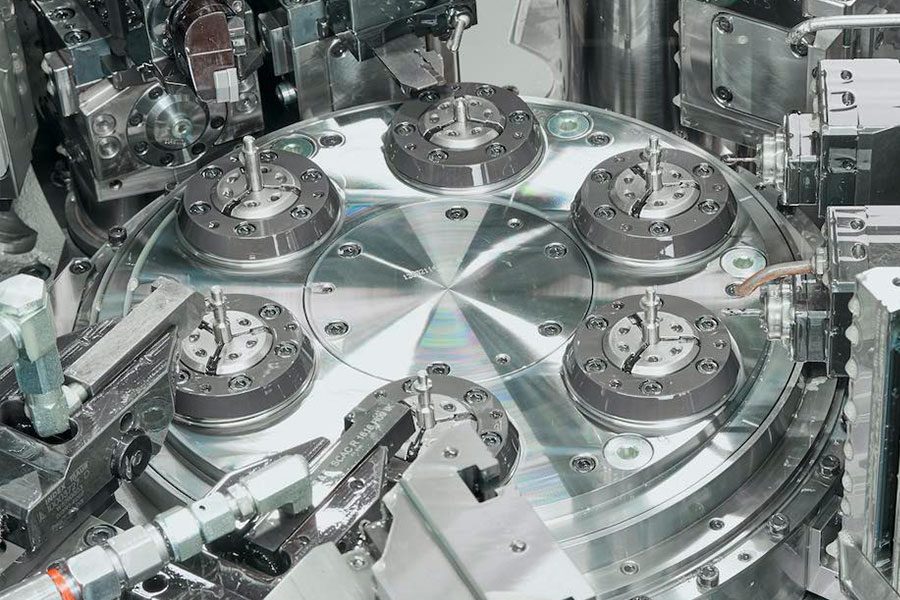 Capacities of multi-spindle lathes
In line with the general trend towards more flexible and cost-effective production on the one hand, and increasingly sophisticated technology on the other, the popularity and demand for multi-spindle machining lathes has increased among medium and large companies specializing in precision machining. The advantages of CNC multi-spindle machining over CNC single-spindle machining are manifold: higher production volumes of small and medium-sized parts and components in shorter cycle times, energy and space savings, and the possibility of more complex designs.
Our multi-spindle CNC lathes
Our multi-spindle CNC lathes are equipped with 6 main spindles with 2 slides per spindle, equipped with X, Z and Y axes, on which several fixed or rotating tools can be installed. The advantage of the multi-spindle is the breakdown of the machining operations over the 6 positions with a balanced distribution to optimize the cycle time.
With such a configuration, it is possible to perform the roughing of a profile on one station while the finishing of this same profile is carried out on another station: the cycle time is not added as it is on a single spindle.
The kinematics of the multi-spindles also makes it possible to carry out a multitude of different operations to machine the most complex geometries spread over the 6 spindles.
Also equipped with a counter-spindle fitted with a C-axis (Positioned workpiece pick-up – Indexing) and a rework unit, numerous counter-operations can be carried out, to avoid any additional handling at the exit of the workpiece and thus ensure high-precision bar turning.
Exceptional surface quality is obtained thanks to the possibility of programming a different speed for each spindle and ensuring optimal cutting conditions.
The work area is generously dimensioned. Its excellent accessibility is a major cost-saving factor when changing series. Even when the machine is fully equipped, chip removal is ensured.
A filtration system and high pressure pumps complete the chip control.
The configuration of this type of machine has been developed to implement the most modern production technologies, even in difficult materials.
The latest generation multi-spindle CNC lathes, such as the INDEX MS40-6 which was recently added to DJC's machine park, offer a plethora of possibilities for machining complex and precise parts.
Multi-spindle vs. single-spindle
The result is a machining time four to five times shorter for the same part compared to the machining time on a single-spindle lathe (depending on the complexity of the part).
There is no need to transfer a part from one machine to another for further subcontracting operations. For a machined component manufacturer, this means they are able to take on higher volume orders and commit to shorter lead times. OEMs that require small or medium-sized complex components in large volumes should look for a high-precision machining company with this type of equipment in their machine park.
For a component manufacturer, this also translates into improved energy efficiency, as the overall processing time required for a finished part is shorter when multiple machining operations are performed simultaneously on several parts installed on different spindles in a single machine barrel, compared to the cumulative time required for the same work performed on separate machines. The end result is a reduction in the cost of each individual part.
Single-spindle lathes may be the most cost-effective choice for small shops that routinely produce simple parts, typically machined from one side only, and for small orders. A latest-generation single-spindle lathe equipped with a sliding headstock and an additional counter spindle can be a good option for fairly demanding machining projects.
The most important advantage of CNC multi-spindle machines is certainly the versatility of the operations they can perform, which makes the most complex designs possible.
Types of operations on multi-spindle machines
The range of machining operations that can be performed on a multi-spindle machine is quite wide:
Slotting / Grooving
Knurling
Threading and rolling
Turning
Chamfering
Threading
Drilling, Boring
Boring
Gear cutting with hob
Milling of keys and flats
Contour milling
Broaching and stamping
Burnishing and roller burnishing
Casting with form tools
Polygon turning
Drilling / angle milling
Cross, off-centre and inclined drilling
Calibration and shaving
Moulding and engraving
Deformation: folding
Elliptical deburring cross drilling
The combination of these options in a single machine makes multi-spindle machining the ideal choice for the fast and cost-effective manufacture of small to medium-sized high-precision parts in medium to high volumes.
Thanks to our multi-spindle workshop, the capabilities of our recently acquired INDEX MS16, MS22, MS32 and MS40-6 machines and their complex kinematics, we at DJC continue to expand our machining capabilities by adding options for more complex machining processes.
The diversity of machining equipment in our fleet allows us to manufacture components of varying sizes, levels of complexity and material hardness. We machine parts from 4 to 40 mm on a multi-spindle and up to 51 on a single-spindle, with a variety of materials including steel, stainless steel, aluminium, bronze, brass, copper, nitronic, and other brass and copper alloys.
The virtual machine
This programming aid allows the validation and preparation of production lines.  All the dimensions are optimised and avoid the risk of collision. The advantage of this system is also that it saves a lot of time, as the programming work is carried out in hidden time and limits machine downtime.
Types of parts produced on multi-spindle machines
Because they can perform different machining operations in a single drum pass, multi-spindle machines are ideal for producing complex parts that require tight tolerances and repeatable quality in high volumes. Some of the most common applications for multi-spindle machining include connector bodies, fittings, rings, inserts, fasteners, rollers, bearings, screws, etc.
At DJC we use multi-spindle lathes to manufacture components for products such as electrical connectors, hydraulic and pneumatic fittings, mechatronics sub-assemblies, sensors, heat exchangers. These products are dedicated to a wide range of customers in sectors as diverse as automotive, IT, industrial equipment, IT and medical instrumentation.
Finally, the choice between single-spindle and multi-spindle machining will depend on the needs of the customer's project and the volumes of parts required. Our engineers can help you define the best option for your specific project.
Contact us to discuss your project with our team.
Share news article